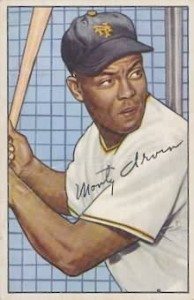 A mystery: did this HOFer
once spell his first name
differently?

(At age 94, this barrier-breaking Giant is replying to collectors, stating that failing eyesight prevents him signing any more autographs. Here's a copy of my response to the note:)
Dear Mr. Irvin,
Congratulations on your second retirement, this one your farewell as an autograph signer. As I stated on the envelope, I am not asking for an autograph.
This is my time to thank you for decades of service to baseball and baseball fans.
After all, you've signed for fans who never saw you on the field. A half-century after leaving the field, you've kept being kind.
While other Hall of Famers asked for fees for themselves, you raised donations for Lincoln University, your college.
Most of all, I applaud you on your finale. The note you're now sending is an eloquent tribute to OUR game:
"I will always be a part of this great game and I trust it will continue to bring you enjoyment as a cherished sport and pastime."

Well said, sir!

You're part of the reason this game remains great. Thanks again.
Tom Owens