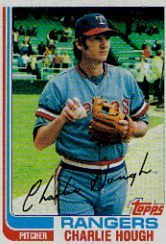 Sorry, Charlie…
For more than 20 years, hitters couldn't figure out Charlie Hough's baffling knuckleball.
Now, Hough himself is the bafflement.
According to Harvey Meiselman, Hough, Mickey Hatcher, Tim Wallach and Rick Honeycutt have signed with the same fan mail handler. Each now cost $15 apiece per baseball card autograph.
I checked the stats on www.sportscollectors.net.
Hough has signed for 767 collectors, a staggering 95 percent of all requests logged at the website. More impressive was how Hough would decline any offer to keep extra cards. If someone sent him 12 cards, but asked him to keep half, he'd return every card autographed.
I understand the temptation faced by the others. Honeycutt had signed for 120, Wallace 76 and Hatcher 35. Successes with the trio ranged from 41 to 63 percent.
Hough was different. What caused him to abandon ship?