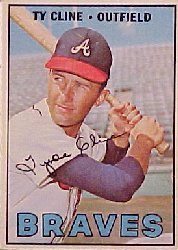 Not the longest name to write!
Thanks to Harvey Meiselman. Here's yet more proof that his 2013 Baseball Address List provides exceptional value throughout the year.
He notified all of list purchasers through e-mail update that Ty Cline has stopped signing through the mail, sending this message as the sole reply:
"Ty Cline regrettably is no longer signing memorabilia through the mail"

This news is especially worrysome. The www.sportscollectors.net website reported that, through October, Cline had signed 151 of 156 requests.

When a generous signer stops suddenly, one of three red-flagpossibilities appear:

1. He's quite ill. (Cline is 73.)
2. Someone has perpetuated the myth that the signer's free autographs are being black-marketed on the Internet, with untold riches escaping the former player's family.
3. The fan mail screening service wants a cut of the action, offering to split profits from future TTM signing for a fee.

Cline (or family) have been sending out notices. They could have been trashing mail, instead. I hope to find out if they'll start "Return to Sender" refusing mail, so collectors won't lose their cards.

I'm grateful to Harvey for the update, and to a player who gave generously of his time and signature for so many years.