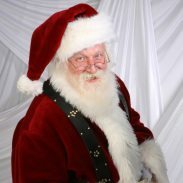 He's the greatest Santa
I've ever seen in action.
I'm doing my best
to be good this Christmas!

Strings-attached Christmas cards?
Or, "Merry Xmas, gimme an autograph!"
I don't think I could combine the two.
After I sent a note of support (NOT an autograph request) to then-Royals coach Tom Gamboa after suffering an on-field attack in Chicago, Gamboa sent me a note of thanks for my support, penned on the bottom of a Christmas card. The reply came in December.
I am monitoring the local retailers who sell individual greeting cards. They always have extra envelopes of assorted sizes. The unused envelopes seem to get pitched. I was given a bunch last year.
I see nothing wrong with sending a fan letter in a colored envelope. But expecting Santa, The Wise Men or any other Christmas icons to make the pitch for a reply? I can't go that far.
Coming Wednesday: Remembering Gail Harris