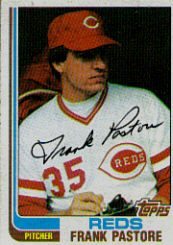 The autograph grew loose
and loopy over time. Pastore's
appreciation for collectors
remained strong.
Black Friday. Cyber Monday. It's about getting it all NOW.
Ironically, we put off non-shopping choices until later. Autograph collectors know this well.
Frank Pastore was a generous, even easy, autograph by mail. A man in his 50s. Collectors could get him any time, right?
One motorcycle accident has changed everything. Pastore's future is uncertain.
Forget methods and systems, ages and availabilities. If you want an autograph, or if you want to thank a player from YOUR past, don't wait. You heart may know more than your head.
Coming Monday: Thoughts on Christmas cards.