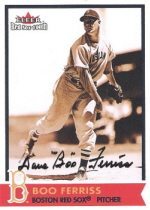 Cherish every great
signer!
The list seems to grow every year. I'm sure I've added on complaints. The highlights (or LOWlights) include:
Players who charge for autographs.

Players who don't respond.

Players who scribble their names.

It's time to make a new list. One that details what's RIGHT with the hobby.
I believe that current and former players out there still love baseball as much as I do. It's a common language we speak. Because of this bond, they'll respond to my letters. I'm not going to count the misses, only the hits.
Dwell on what might not happen, and your fate is sealed. I remember a quote from Rich Gossage, saying that he'd get revved up when he could see the fear on the face of an opposing batter. Don't be that batter — or that collector.
Believe that this hobby is dying and your letters will suffer for it.

Coming Monday: Memories of Roger Maris autographs from his #1 fan.