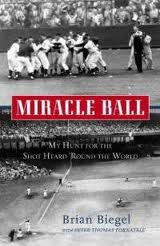 As my Dad used to say, "Get the TV set warmed up!"
A program is coming. Here's the word from Velocity, an offshoot of the Discovery Channel, about Sept. 29 and Oct. 3 listings.
Wait…isn't Oct. 3 the date of Bobby Thomson's 1951 "Shot Heard Round the World" homer?
Ever wonder what happened to that famous baseball?
Ah! Here's the details…
"MIRACLE BALL, documents one man's journey to search for sports history's biggest treasure, on a quest that takes him back through time. Follow director Brian Biegel on his exploration to differentiate myth from fact and legend from truth.
After his father, Jack, finds a baseball at a thrift store with clues dating back to 1951, he believes it could possibly be the most coveted artifact in sports history. Biegel becomes a man with a mission to prove its authenticity. Working with NYPD detectives, scientists, journalists, baseball historians and actual fans present at the game, no stone is left unturned in this ultimate hunt in the quest for the truth. Implementing forensic science, photographic evidence, and eyewitness accounts, the world will finally learn who walked out of the stadium with the legendary baseball and where it has been hiding for over six decades."
A sports memorabilia auction house grabbed headlines by offering a million dollar bounty for anyone who could produce the authentic baseball. Brian's father tried to submit the baseball, but got a rude brush-off. The experience sparked a book, followed by the documentary.
I'll tune in. I hope you will, too.