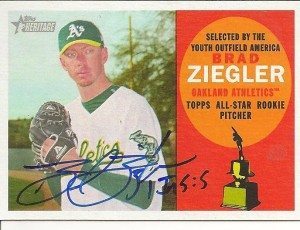 If you get Brad by mail, be assured that a
Bible verse will be attached!
There may have been a few groans when Pat Neshek shared May advice for autograph collectors. Don't forget the SASE? Some veteran hobbyists snorted. Who wouldn't enclose a self-addressed, stamped envelope? Where was the advanced, top-secret formula for guaranteed autographs?
I decided to cross-check Pat's concern. Could it be? I sought out Arizona Diamondbacks pitcher Brad Ziegler. How many fan letter autograph requests does he get NOT including a SASE? I told him that veteran collectors hope to get the word spread, to reduce the number to ZERO.
He replied:
Thank you 🙂
5%. Most have SASE.
The ones that don't, I keep the cards.
Five percent is five percent too many.
I'm grateful to Stephanee (Mrs. Pat) Neshek, who asked the same question to her talented husband. She wrote:
Pat loves the hobby himself so he tries to be as accessible as he can be. He said about 1 out of every 10 requests don't have a SASE.
Come to think of it…one out of 10 is one too many.
Why? That one could push a current or former player into finding the needed scapegoat. Imagine. "I hate it when they do this. I'm not going to do fan mail any more!"
I salute everyone who's learned the rules of TTM collecting. To everyone who shares those rules, I offer an extra cheer.

Coming Wednesday: Youtube, the next stop for autograph enlightenment!