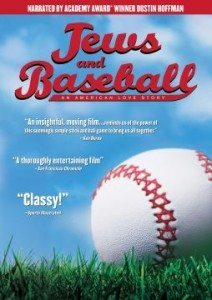 Worth watching!
His name is Alan. He doesn't want his whole name or address shared. However, I'm grateful he was willing to share a great glimpse into his hobby past.
"I am a collector of Jewish Sports memorabilia. Back in the late-1990's, I received a gift-certificate from one of the book stores. I decided to use the gift certificate on the book, When Boxing was a Jewish Sport. It was a fascinating history of Jewish boxers in the 1920s thru 1940s. After I read it, I decided to research & acquire autographs from some of the guys depicted in the book, who were still alive. Then, from there, (and I'm not sure how/why it happened) but I ended up interested in Jewish athletes from all sports, the major sports like baseball and football to the lesser popular sports like golf, gymnastics, lacrosse, tennis, swimming, etc,…
When I wrote to them, I wouldn't so much ask them about their athletic achievements, but rather more of their "Jewishness". My questions asked things like "how observant were you", "what was it like being a Jewish athlete at that time", "had you experienced any anti-semitism", etc,… "
I read through a sampling of the letters he shared from his hobby heyday of 1998-2006. Gabe Kapler explained how he felt about Jewish jokes from teammates. Pitcher Andrew Lorraine wrote about the challenges of trying to keep an active faith with the rigors of a major league schedule. Hy Cohen, who pitched for the 1955 Cubs, told how "fastballs close to the body" could silence anti-semetic opponents.
I am not Jewish. However, I was moved by the recent documentary Jews and Baseball, one that's becoming a public TV staple every spring. Alan found a way to see current and former players as people, not just as stat machines.
These days, Alan has returned to his previous hobby of basketball collecting. However, he understands the power of autographs. Whether it's one faith, one team, one school or state — there are so many ways to make your collection reflect YOU. You'll appreciate the hobby more, as will the signers who give you remarkable results.