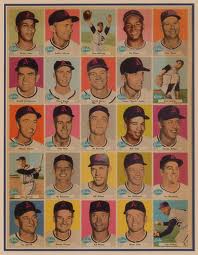 How much did this uncut sheet
sell for? The auctioneers at
Robert Edwards Auctions
hit a home run with this lot
from the first-year KC Athletics!
Thanks to the eagle-eyed readers who saved me. As I sought former 1950 Kansas City A's to write to, I overlooked one sad fact: Glenn Cox passed away in January.
However, he left a legacy. Cox wrote a 2009 book The Way The Game Was Played.
I found an able substitute, catcher Jim Robertson. He migrated from the 1954 Philadelphia Athletics to the 1955 club in Kansas City.
I've wanted to find out from any first-year players if they knew what a treasure the Rodeo Meats team set was.
Most of all, I wanted to point out the importance of hobby buddies. Sharing information is one of the secrets to prospering as a collector.