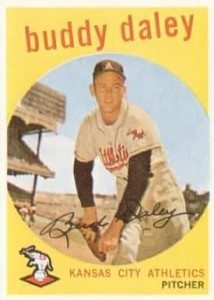 Did the pitcher ever sign
"Buddy" autographs?
I'm looking for more Tom Harrisons.
The 1965 Kansas City Athletics pitcher got me thinking. Who are the colorful 1950s KC alums?
That spurred me to dig out some old rosters from 1955-59. I wasn't looking for A's Hall of Famers, but dependable signers who might have some classic stories. Here are the 10 I chose to get letters:
Joe Astroth
Mike Baxes
Glenn Cox
Bud Daley
Alex George
Ken Johnson
Lou Klimchock
Bob Martyn
Rance Pless
Jim Small
Stay tuned!