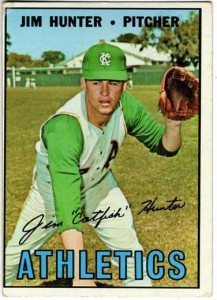 As evidenced by the facsimile
sig on the 1967 Topps,
Hunter embraced his
fictional nickname immediately!
Pitcher Tom Harrison wasn't the only youthful newcomer on the 1965 Kansas City Athletics staff. He remembered a young teammate, one Jim Hunter, writing…
"First of all, we were competing for the same position, as well as we were both fairly young. Jim had a lot of pitching experience, and if he hadn't practically blown his foot off during a hunting accident, he would have signed for a lot more money than then $75,000 he settled for.
Jim had great composure on the mound. He also gained great control during his career. He was a tough kid, and because of his accident never had to worry about the military.
He got his nickname from (team owner Charlie) Finley right after he signed.
I ended my military service in Mass., 1969. Joe and Catfish invited me to their game with the Red Sox. I also saw them in Oakland during the 1970 season. I was going to college in Sacramento at the time.
Catfish had his last public appearance just before he died in Oakland, and he had to keep his hands in his pockets because he could not move his arms. Very sad."
Coming Friday: Just one hit in the majors? Only one win? Author George Rose shares stories of "Baseball Wonders."