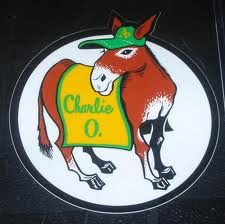 For years, fan interest kept the A's
mule mascot kicking. I spotted this
vintage sticker offered on ebay.
Don't sell the "cup of coffee" player short. Someone can build more memories in two weeks than some superstar after two decades.
My exhibit A is Tom Harrison, who pitched in just one game for the 1965 Kansas City Athletics.
He made the season come alive again in his reply. His comments follow:
"First of all, thanks for taking an interest in baseball and secondarily, an interest in my short big league career. My first year, I played in Daytona Beach, Fla. I had a 6-7 record, but left in July, leading the league in strikeouts and ERA. Notable teammates at Daytona were Felix Millan, Alex Rodriguez (catcher for the Angels '60s) and Joe Rudi.
From Daytona, I went to Lewiston, Idaho, and played for the Broncos. Record-wise, nothing notable, except I got my ass handed to me on more than one occasion.
The first three games, I gave up seven home runs. In Daytona, I gave up two home runs in 19 games. You either learn from your mistakes or go home. Notable players were John Donaldson, Ramon Webster, Tony LaRussa, Bill Edgerton and manager Bobby Hoffman, who played for the World Champion New York Giants, 1954."
I asked about "Charlie O," the Athletics mule mascot. No costumed character. The real animal! Tom replied:
"I only remember the mule during our first road trip. Ken Harrelson rode him in Yankee Stadium, and Charley (Finley, team owner) got him into the Americana Hotel.
This is the crap that Finley concerned himself with."
However, I wondered if the mascot budget might have caused players to get their basic needs overlooked. Tom answered:
"Being that this was my first and only experience in the bigs, everything was fantastic. Somebody else cleaned your shoes, washed your clothes and took care of all your basic baseball needs.
What a life!"
Lastly, Tom reminded me that statistics never tell the whole story. For instance, I asked if hockey was ever a choice for the Canadian-born athlete. He responded:
"I heard more about my place of birth after my career. I left Canada at 18 months, so hockey never entered into my psyche. I worn born in Trail, British Columbia, and in 1936, the Trail Smoke Eaters were the world amateur champions."
Coming Wednesday: Memories of Jim "Catfish" Hunter.