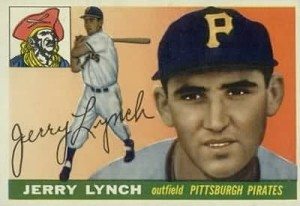 More than 50 years later, Lynch maintained
that crisp autograph!
The initial obituary of Jerry Lynch is no longer available. I found a more detailed remembrance in the Pittsburgh newspaper. Small wonder, considering that Lynch gained his sparkplug reputation in Pittsburgh.
I salute Taryn Luna from the Post-Gazette for some stellar reporting. This observation from Lynch's wife Alice leaped out:
"After his retirement, he kept in touch with his fans.
"He always answered his fan mail," she said. "He signed the picture and sent it back. He was very faithful about this."
She said his desk has stacks of letters he received since he went into the hospital two weeks ago."