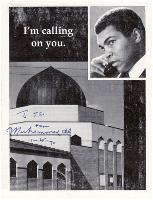 Sports celebrities have
known for years that
their autograph could
help sell their views. I
wrote about Ali's
plan in 2010.
Red Sox. No, Yankees. No, Red Sox!
Not everyone agrees — especially in an election year. I'll never forget hearing Curt Schilling in a Good Morning America interview blurt that he was voting for George W. Bush. Surprise!
Be prepared for religious, political or other extreme material — in your eyes. Perhaps, the former player is selling a product or service you don't appreciate. What to do?
1. Head for the recycling bin.
2. Donate to a beginning collector. To many, an autograph is an autograph.
3. Put the offending autograph in your "for sale or trade" collection. Some hobbyists collect controversy.
I would NOT suggest sending back the questionable signed item, simply because you disagree with the content.
You invited this person into your home via your self-addressed, stamped envelope. If they write to you unsolicited or ring your doorbell unannounced, then it's fine to share your feelings.
Starting a debate will only drag innocent collectors into the muck. If this former player still autographs cards he's on, some in the hobby will be grateful.
Instead, tell other hobbyists. You might save them the shock you felt. Meanwhile, don't be surprised if both political parties recruit autograph ambassadors prior to the 2012 election.
Coming Wednesday: Tracy Jones tells about his autographed card giveaway!