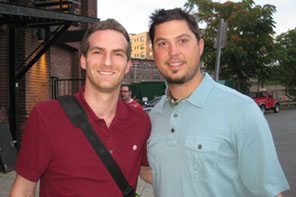 From 2011: Non-signing Red Sox hurler Josh Beckett (right)
still found time for collector Matt Raymond.
(Courtesy Matt Raymond & Autograph University)
Matt Raymond is the Dean of Autograph University.
That's Matt's blog/website, the one I raved about at the start of 2011.
Matt has a deadline of March 31 for his first annual Autograph U Yearbook, which he promises will be a free, downloadable e-book. He's inviting collector stories with photos.
When we share our stories in the hobby, we share our knowledge. As we look at who we are, we can see who we can be.
Everyone will rave about the idea of the e-book after it appears in May. Send in your story now. You'll be glad you did later. Let me be the first to applause Matt's kind gesture. I'll be sending him my story this month. I hope you'll add your own hobby tale, too.