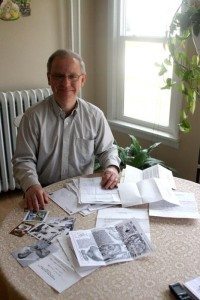 Two years. Still in the game. Since Feb. 10, 2010, to be exact.
I couldn't have done it without readers like you.
I'm thankful to you, as well as to Diana (my wife/best friend/muse).
Drinking and blogging isn't allowed. However, I must ask for one sip of whine.
Year two hasn't gotten easier. My response rate from retired players has dipped.
I'm not talking Hall of Famers, either.
Fine. Be that way! I'm digging in. I'm choking up on the bat. I'll get my swings. To translate, I'll make every opportunity count.
I saw Chef Thomas Keller interviewed once. The sign on his
restaurant kitchen wall read:
A Sense of Urgency
The Chef speaks my language. Baseball doesn't have a time clock. Writing to former baseball players does.
Obituaries. New non-signers. Retirees hiring fan mail "services" to handle letters while charging for each signature.
The challenges are there, possibly growing by the day.
That's no reason to give up. Part of my game plan for dealing with the new opposition will be in spotlighting the hopeful elements of the hobby. If I find a collector finding creative ways to reclaim the hobby, I'll share that hope. Likewise, I'll blow the whistle if I find any examples of fan mail misbehavior.
Meanwhile, thanks for sticking with Baseball By The Letters. Your posted blog comments and e-mails are appreciated. When I vowed two years ago to chase stories, not signatures, I meant OUR stories, too. My friend Kohei Nirengi calls it "the beautiful game." Indeed! Good fans and sincere collectors are what keep it that way.
Coming Tuesday: An update on Negro Leaguer Louis "The Gray Cat" Clarizio.