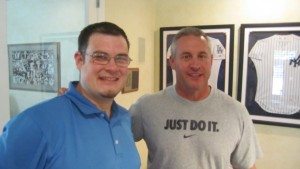 Chris Potter (left) and Steve Sax
(Photo courtesy of Chris Potter Sports)
 Thanks to Nick Diunte for sharing a recent fine feature on his "happening" blog, http://www.baseballhappenings.net/. Nick is an all-star journalist, someone with a deep appreciation of baseball and all things collectible. A kindred spirit!
Nick wrote about Chris Potter, the new intermediary handling fan mail for Steve Sax. Potter's business has a website. Most encouraging is his motto: "The Collector's Friend."
In my original feature about Sax choosing to stop signing autographs by mail for free, I mentioned Potter's role only in passing. Potter is seeing that unsigned cards get returned with a price list. When some ex-players stop signing, they may trash all their mail.
As Nick points out, Potter's involvement can benefit needy retirees, such as 95-year-old Danny Litwhiler. This man, unlike Sax, never raked in millions during his career.
Last week, I mentioned that former Negro Leaguer Louis Clarizio Jr. would sign for pay. Using an autograph as a way to help someone in need can make sense, especially for someone with a one-year career who played mainly for the love of the game.
However, I can't help missing the GIFT aspect of the autograph, the service of signing. Add money, and the personal interaction disappears. It's like purchasing a loaf of bread at the supermarket. The humanity, the idea of one baker making a treat just for you, is replaced. The autograph is now an assembly-line product, something that anyone can own, not a reward for your captivating letter.
In fact, I can't help but feel sad for the letter writers who try to send memories to a former player like Sax. These days, your cash matters more than your words to many retirees.
Coming Tuesday: Collecting Japanese baseball autographs