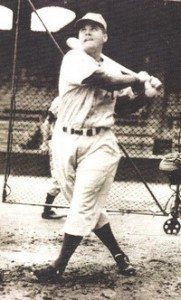 If World War II wasn't incredible enough…
Dick Adams, known as a first sacker with the 1947 Philadelphia Athletics, managed his Army base team. One fellow soldier was none other than Joe DiMaggio.
Adams remembered:
"Yes, I managed Joe DiMaggio in the Army, then played against him in 1947. I was with the Phila A's. He was with the Yankees.

He was a very quiet person. Didn't stay on the Base any longer than he had to. Went to Hollywood a lot. He always had gas tickets and tires."

[The government rationed both in World War II.]

"His baseball skills were VERY GOOD (like always)."
Speaking of Hollywood, Adams has lived a movie-like existence.
First, he lived the major league dream with brother Bobby Adams. Did they talk about playing pro baseball as kids?
"About my brother and me: we went to a tryout camp in Berkeley, Calif. during Easter vacation, 1939. We slept in the car at night, 'cause we never had any $ for hotel rooms, and then we got a $200 bonus for signing (each of us $200).
We thought we were rich. That's when we talked about playing in the Major Leagues. He had a much longer career in the 'show' (14 years) and ended up with the Cubs.
Baseball today is not like it was in my time! Too much $ nowadays. No team play. All 'me, me, me' for $ and long-term contracts."
Although he's been gone from the diamond for decades, Adams never left the keyboard. A professional pianist beginning at age 13, he keeps sharing his musical gifts today.
"I just returned from playing a luncheon for old, bold pilots — all WWII pilots. Even several German pilots who have become citizens of USA. Quite a nice occasion. By the way, I had four gigs this past week. I still play piano. Big Band music. WWII stuff."

To learn more of Adams in World War II (and his life after baseball) check out the always-fine "Baseball In Wartime."
Coming Friday: Fan and collector Kohei Nirengi, championing America's Pastime in Japan.