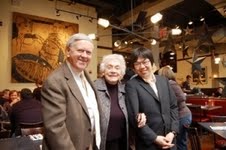 "I met with Mr. Bob Wolff and his wife, Mrs. Jean, in New York City in March, 2009, it was my second trip to the U.S. This HOF broadcaster invited me out to lunch as his first fan from Japan. I never forget that he brought my air mails and letters to him at that time. He was a first person who wanted me to become friend in baseball. I had a great time with both. He also hired a Japanese interpreter for me ! My hobby has brought many happiness to me."
(Photo and words courtesy of Kohei Nirengi)
Some baseball fans collect autographs. Kohei Nirengi collects friendships.
I met Kohei (pronounced CO-hey) after an August e-mail. As a pen pal with former Cub Bob Will, he learned of this blog.
Instantly, I was impressed by the knowledge and passion of this fan from Japan. He was focusing his collection on retired players. Except, he was corresponding with them! It seemed like baseball families were adopting him.
Small wonder. He wrote thorough, insightful letters. He asked great questions. Retirees knew who he was, why he loved baseball and why he wanted THEIR autograph. Then, he'd send thank-you notes, even portraits that this talented artist created out of gratitude.
Kohei is TRI-lingual. He speaks and writes his native Japanese, English and baseball.
Q:. When did you first start collecting Major League autographs by mail? Who was your first?
A: I started it in October, 2004. Bobby Valentine, since he managed the Chiba Lotte Marines at that time. I thought it would be easy for me to get his autograph by domestic mail than by air mail after he would come back to the US.
Q: How did you learn about finding retired player addresses, SASEs and U.S. stamps? How common is it in Japan to collect Japanese player autographs by mail?
A: It was easy to find some good TTM websites by Japanese serious collectors on-line when I decided to start. So I could realize that I would find former player addresses, if I could purchase Harvey Meiselman's baseball address lists. Much of Japanese collectors wrote about SASE on their websites, too, so that it was easily understand that I should enclose such a thing with my fan letter. U.S. stamps were very difficult to get early in my challenging, so I had to buy many expensive U.S. commemorative stamps via our Yahoo! auction. Then I found a Japanese trader who lives in the West Coast on-line, and I could buy many U.S. stamps from him, but, of course, I had to pay allowance to him. Nowadays I buy them as I have a chance to visit the U.S. This is the best way!
Well, needless to say, you must enclose SASEs with your letters to Japanese players by mail. Also I'm sure the most important thing is to send your passion for baseball and each players with your requests.
Q: Who offered the first response of something more than signing your card? Can you share an example or two of people responding with a letter or extra autographed items, wanting to befriend a fan from another country?
A: Phil Niekro offered his autographed HOF card of himself. Gary Kroll, former pitcher with the Mets, was very kind to offer very nice photos in baseball to me, and told me about a slugfest between the Cubs and Phils at the Wrigley Field. Dwight " Red" Adams and George Elder responded with my questions by mail. George Green, former outfielder in the Negro Leagues had befriended me, I really appreciated his help to better understand their history.
Q: What percentage retirees (versus current players) do you write to? Why do you have a special interest in FORMER players, being such a young fan?
A: The percentage of retirees to current players on my requests is 90 to 10. Because I just respect the history of this greatest game of baseball, so I want to send my gratitude for each former player. Also I would love to investigate each story in baseball by themselves, all of them would be worth sharing.
Q: What is a typical letter like that you write? How often do you ask questions? What items do you ask to have signed — if any?
A: " I believe that baseball is the most beautiful game all around the world." This is my typical note to write on each of my requests, I really mean it. To be honest, I rarely asked questions on my letters until I found your awesome blog about not only collections but also such questions by letters. Then I try to ask a few questions to them often. In my case, I've enclosed each baseball card or original Index card which I made by myself to get their autographs by mail.
Q: Do any autograph signers note that they're surprised that a fan from another country could know so much about American baseball? And how do you keep so well informed about baseball, past and present?
A: Yeah, in fact, few former players from the 1940's, like Red Borom and Cy Buker, noted they pretty impressed on my knowledge of American baseball. Needless to say, I'm very honored. Well, it was very difficult to keep up with the updated news about MLB here in Japan before Hideo Nomo broke into the Big Leagues with the Dodgers in 1995, and then a couple of monthly MLB magazines in Japanese have published, although, one of them had to stop the publication four years ago. Anyhow, I can get much information about American baseball, past and present, by them. Also I could find many old baseball books in an used-book store in Tokyo. Nowadays I'm blessed to have the Internet to get many updates across the Pacific Ocean. Amazing!
Q: How difficult is it to get American baseball cards — past and present — to get signed?
A: I think it is easy for any Japanese MLB fans to get current American baseball cards on-line. We have some sports' cards shops over here, they handle not only Japanese sports' cards, but MLB, NFL, NBA and NHL. Also if you can get into an auction site like Yahoo!, probably you could get past American baseball cards, but it would be expensive often. Our shops or such auction website also handle so many signed baseball cards, so you can get them here in my country.
Q: You mentioned that your parents are fans of Hideki Matsui. Have you had success writing to Japanese major leaguers here in America? Have you written to them in Japanese? I think every collector would love an Ichiro autograph.
A: Yes, fortunately, I could succeed in getting Hiroki Kuroda, Masumi Kuwata, and Koji Uehara, not many, but I love these autographs ! Yes, of course, I've written to them in Japanese. I've tried to get Ichiro's autograph in the mail, but failed, however I've seen that one of major Japanese collector got one from this future HOFer by mail ! Many collector would envy his success-haha.
Q. You are a special fan of the Philadelphia Phillies. Why? How are the Phils a specialty in your collection? Who are some of your favorite signatures?
A: Since I did enjoy the 1993 World Series between the Phillies and Blue Jays, this series were my 1st televised MLB games in my life. As far as my collection, the Phils are not special, I've treated all responses alike.
Q: Phillies or not, who are some favorite autographs of yours?
A: I venture to pick some of my favorite signatures: Virgil "Fire" Trucks, Curt Simmons, Roy Sievers, Greg Luzinski, and Harmon Killebrew.
Q: What hobby goals do you have?
A: I just want to keep sending my requests to the U.S. along with my appreciation for this greatest game as long as I am able.
Q:. What advice do you have for other collectors?
A: Well, I would make conventional remarks, " patience" is the most important thing to keep doing this hobby, for instance, I had had to await for getting a response by Vin Scully for 6 years! By the way, Japanese baseball fans enjoy collecting autographs via TTM. That's good for baseball, also hope that more baseball fans in our both countries just enjoy this wonderful hobby in the future.
Thank you, Kohei. And, thanks for reminding us that, no matter who we are, or where we are, baseball is a universal language.