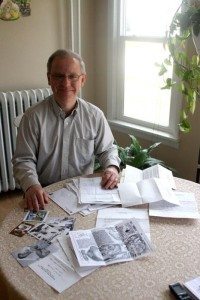 "Clear the dining room table?
Why? For cake? For me?!?"
Old age creeps up on me.
Today, 10/20, is the birthday of Mickey Mantle and one "Baseball By The Letters" blogger.
In my delight over the Lon Simmons letter (and anticipation of cake…) I leaked the first part of Lon's revealing comments.
I wanted to interrupt this newscast for a suggestion:
Print out this column and leave it for any potential gift givers:
MEMO: GIFT IDEAS FOR A COLLECTOR
1. Postage stamps
2. Membership to www.sportscollectors.net
3. The Harvey Meiselman Baseball Address List, available at www.sportsaddresslists.com
Good luck, hint droppers!
Truly coming Friday: Lon Simmons Remembers Russ Hodges