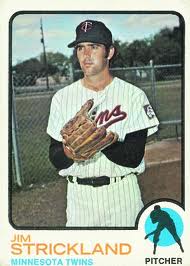 Strickland debuted in 1971.
Why couldn't Topps show
him in a REAL ballpark for
its 1973 set?
Pitcher Jim Strickland hasn't been on the mound for more than 35 years. There's still time to cheer for him.
This man of faith threw baseballs. He's not throwing blame today. Strickland put his career on hold for military service. He'd be entitled to some bafflement, if not bitterness. His march to the majors became a march for Uncle Sam in 1967-68. I began with the "what if…" question. Strickland replied:
"The time off had an unknown effect. The experiences might have extended my career."
Someone who sees what they gained, instead of what they may have lost? That's worth a standing ovation.
I remember adding that Twins Rookie Stars card to my 1972 Topps set, seeing him with Rick Dempsey and Vic Albury. How did the card make him feel?
"All rookies got $5 to sign with Topps (1964). I don't remember how I reacted (to the first card), because I never collected cards as a kid."
There's no doubt to how Strickland reacted on May, 19, 1971. That's when he relieved Jim Perry at Anaheim Stadium, getting his first win as a Twin. The win wasn't in Minnesota, but it did seem like pitching at home. Strickland added:
"My first game was very special. Being from southern California, I was able to pitch in front of family and friends. The most tense moment was the first batter (ground ball to short)."
How did Strickland fare versus the Angels? Thanks to http://www.retrosheet.org/, you can see for yourself!
I thanked Strickland for his military service. He thanked me for being ME.
"Tom, Thank You for being such a fan. Thank you for the questions. God bless you.

Jim
Coming Wednesday: Tom's latest '10 Most Wanted' contacts, St. Louis style