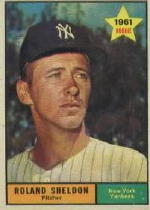 An 11-game winner
who didn't get in
the World Series? I
wouldn't smile, either!
Pitcher Roland "Rollie" Sheldon debuted as a footnote to history. His rookie season with the 1961 Yankees featured an impressive 11-5 mark. He would have needed to be a league leader to rival the headlines grabbed by his history-making teammates.
Having the best seat in the house for a record-breaking home run battle between Mickey Mantle and Roger Maris, Sheldon also witnessed the wrath of reporters unleashed upon Maris.
Sheldon remembered…
"Roger experienced pressure every day. We tried to help him through each and every day by joking with him. Tried to divert the press."
That year, did the New York media machine put extra pressure on Sheldon in his premiere season?
"They treated me great!"
Sheldon didn't let the Yankees forget him, even after the team swapped him to the Kansas City Athletics for the 1965 season. I imagined the joy he felt on Aug. 28, 1965, three-hitting his former employers. (Thanks to http://www.retrosheet.org/ for the juicy details!) Sheldon added:
"Nervous before the game, confident during the game and proud after. I just pitched my game."
Coming Wednesday: Helping fabled pitching coach Herm Starrette.