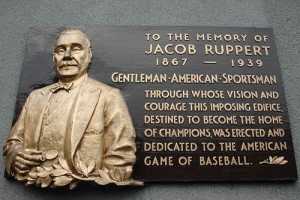 Ruppert's plaque resides in Monument Park in
Yankee Stadium. I found this at Bleacher Report.
The site makes a great case for the owner being
included in the Hall of Fame. Lots of great
Yankee insights here!
Here's a great P.S. to the Mike Micho story. He likes the Tigers, but he LOVES baseball.
As Mike tells it:
"I also wanted to tell you about the surprise I got 3 days ago. I`m a Physical Therapist and work in an acute care hospital. I treat people with many different problems and ailments,which leads me to meeting many different people. During that time,you get to know & learn a little bit about each one.
Well,while working with a 94 yr. old gentleman,he noticed me wearing a pair of Detroit Tigers scrubs and asked me if I was a big baseball fan. Well,with me that`s like opening Pandora`s box! He and I sat and talked baseball for quite a while. Then he proceeds to tell me out of nowhere his uncle used to own the New York Yankees! At first I was sort of taken aback by this, then is daughter, who was present in the room, told me that, yes, his uncle did own the Yankees.
It was Jacob Ruppert, the man who bought Babe Ruth from the Red Sox! Instantly, I asked him "Will you adopt me!" He laughed and said 'God no, I`ve got enough kids to worry about.'
He then started to tell me all about how when he was a little kid, his uncle would let him hang out in the clubhouse, occasionally be the batboy for a few games a year, and how he would play catch on the field with the Babe, Gehrig, Bill Dickey, Tony Lazzeri and others. I could have sat and talked with him all day, but of course there was work to do.
The next day I thought if he didn`t mind,I was going to have him autograph a Yankees logo card just for myself to keep with my other Yankees signed items. However, he was discharged home the night before. Another missed opportunity! Maybe I should keep Signature Cards or logo cards and Sharpie on hand with me at all times."
Like any fisherman, hobbyists all have stories about "the one that got away." Mike reminds us: baseball history can find you at any time. Are you ready?
Coming Tuesday: The Mystery of Mark Mulder.