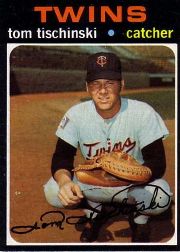 Tom's autograph looked
just like this!
Remember when I listed my "10 From Then" selections of Minnesota Twins I followed in my youth?
The first result from my letters arrived today.
Tom Tischinski gets points for punctuality. However, I'm a bit baffled by his reply.
"MY AUTOGRAPH IS ALL I'LL DO:"
He printed this declaration out in all caps, then signed with perfect penmanship.
I didn't ask anything shocking. Did he remember his game-winning homer against Washington in 1970? What did he like most (or least) about Metropolitan Stadium? Did he endure any major collisions during plays at the plate?
I've received replies that run 1-2 pages. They come without any autograph. Sometimes, I've suspected that older retirees in ill health dictate their memories to a family member. Or, they don't want to sign their letter, because I might be tempted to sell it for millions online.
Other times, I get the idea that these former players are tiring of being nothing more than an autograph. They answer me because they feel I really care about their careers. No one has ever bothered to ask them how it felt to be a major leaguer, even for 82 games spread over three seasons.
Does Mister T think he's nothing more than an autograph?
Coming Tuesday: Never say never while collecting.