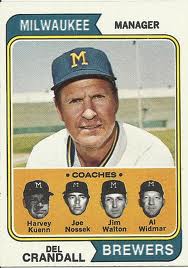 Coaches like Jim Walton
eluded collectors for years,
simply because they never
played in the bigs.
Harvey Meiselman has heeded the (hobby) will of the people.
His 2012 Baseball Address List will add another tool for collectors to use. In a separate listing, addresses for "Coaches With No MLB Playing Experience" will appear.
Topps has included these unsung heroes in a few card sets. Cards or not, these coaches have storied minor league careers. Many of them have inspired today's top players. I saluted one of these coaches in a Sept. 1 blog post.
Thanks to Harvey, a whole new team of baseball storytellers will be accessible by mail next season!
Coming Friday: Baseball's toughest signers thank America's military.