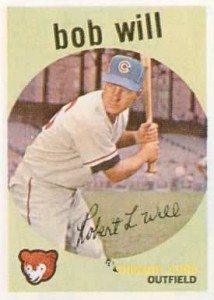 Honest lefty Will. He knew of
other players switching
sides to fool Topps photographers!
Former Chicago Cubs outfielder Bob Will isn't leaving the bat on his shoulder. He's getting his swings.
I wrote about Will back in February. I'm grateful to Kyle Smego of The Autograph Addict for telling me what a friend Will has been to collectors and children's cancer charities.
When the phone rang Wednesday night, I heard from Will the Gamer. Conventional thinking says that Will is trailing late in the game. I say otherwise.
Will has a plan that kicks cancer's ass. The Cubs veteran is intent on leaving a legacy. He's completing his life story. This biography/memoir is something any Cubs fan would treasure. Will is preserving team history, not just his own life story. He endured the College of Coaches. Will has memories of newcomers Ken Hubbs, Lou Brock, Ron Santo and Billy Williams. (He remained friends with the man who took over his outfield job, by the way!) If it happened from 1957-63, this talented storyteller knows about it.
Will plans on sharing his personal collection of photos in the book, too. I'm thinking many of these are unpublished, maybe never been seen by any fans.
Bob asked, "We'd like to know how many would like such a book, and how much they might pay." The Wills are looking at a self-publishing effort.
Let the Will family know your thoughts, please. Cheer them on. Would you buy a book when it's completed? How much would you pay for such a collectible? Your indication of interest will help them prepare a book budget and decide on the size of the print run. Share your contact info, and you could be among the first to own these untold stories.
Write to them at bobwill28book@gmail.com
Meanwhile, enjoy this fine article by Jason Learman about Will's career.
Coming Monday: Pitcher Dennis Bennett ponders his potential.