Former Cub Bobby Scales sent me a message in June.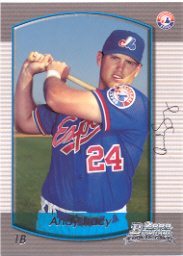 Has time improved
Tracy's autograph?

No, I didn't get mail. I got the symbolism of his career decision. He joined the Nippon Ham Fighters June 27. He played more than 10 minor league seasons, but he isn't quitting. Scales hasn't stopped loving the game.
Minor leaguers over age 30 are an endangered species. I think the movie Bull Durham is more real than we might imagine. These men know that 2011 might be a last hurrah. They want to keep playing while they can. I know that waiting one more season to write them could be too long.
I selected eight veteran names, names of men who tasted major league glory once. Those I wrote to include…
Nate Bump
Randy Flores
Eric Junge
Mike Lamb
Nate Robertson
J.C. Romero
Terry Tiffee
Andy Tracy
The ninth man's life and career is unfolding like a TV movie. David Newhan grew up the son of famed L.A. Times baseball writer Ross Newhan. The young Newhan debuted in 1999, a versatile utilityman. In 2009, a surfing accident and broken neck seemed to end Newhan's diamond career.
Some reporters questioned how Newhan could still walk, or even be alive.
Newhan went to spring training with the 2011 Padres, attempting a AAA comeback. That goal fell short. However, the love of baseball didn't wane. Newhan became a coach at class A Lake Elsinore.
My 10th man is double-A hurler Pat Venditte, a relative youngster.
No, baseball's first legitimate ambidextrous pitcher (aside from a 1995 inning by Greg A. Harris) is not one of the minors' senior citizens. I think his lack of blazing fastball makes him questionable to the Yankees. I can't imagine a team not needing lefty AND righty help. Buy one, get one free. Venditte will be a Youtube immortal, even if the majors don't call. Cooperstown should call dibbies on Venditte's reversible fielding glove.
This batch of baseball warriors impress me. I've found a few other "old timers" still active in AAA. Sadly, according to results posted on http://www.sportscollectors.net/, these men stopped answering fan mail years ago. In a way, they gave up early.
I'm hoping the waning weeks of the season will produce some surprises. Don't give up, guys. You throwback players are living history!
Coming Friday: Pitcher Dennis Bennett ponders possibilities.