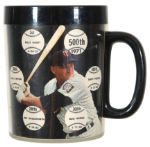 From http://www.hakes.com/.
The auction house got
$86.25 for this 1971
commemorative. When
Killebrew got 500, he
got a coffee mug. With
my 500th, I just get
coffee!
Even if no baseball scoreboards flash the message, it's true. This is the 500th post of Baseball By The Letters. It's been a joy to share this adventure with all of you. I couldn't have done any of this without the love and support of my best friend/wife Diana.
I've learned so much. First, I've got a lot left to learn about the technology of blogging. Yet this year, I'll have an all-new WordPress site to unveil, an exciting creation from the visionaries at Winding Oak Media (who happen to be Twins fans!).
I've learned some basic truths about corresponding with people from baseball's past.
1. Autographs and questions don't always mix.
Some retirees are hard-wired to sign everything. I don't ask for an autograph. I don't talk about a collection. I stress that I want a memory, a bit of history.
2. The minors matter.
Several retirees with brief, lackluster stays in the majors prefer to appreciate their minor league glory. Those achievements are noteworthy, too, considering that minor league teammates and foes may have become the stars this guy never was.
3. Swinging for the fences is risky.
Asking, "Who was your favorite ____?" may be easier than asking former Cardinals manager Vern Rapp how he feels about pitcher Al "Mad Hungarian" Hrabosky today. But do you want an answer you'll find in countless other places, or do you want an insight never seen before in any published resource? You may find that clockwork autograph signers don't response. Your question might be too hard or painful to answer. How safe do you want to play it?
4. The payoffs are priceless.
Each week, I get thanked by a former major leaguer for writing. They thank me for remembering them. They thank me for loving baseball. They are FELLOW FANS.
And here's one bit of wisdom for potential bloggers…
Write for yourself.
Mike Cramer, the founder of Pacific Trading Cards, told me, "I always make the first set for myself." That was my goal with the blog. I wasn't finding anyone else in blogdom sharing letters from former players on a regular basis. I didn't start Baseball By The Letters from a business model. I began writing because I was sure there would be nostalgic fans who'd value stories over statistics. I wrote what I knew I'd like, hoping I wasn't alone.
Thanks, everyone, for your readership, posted comments and e-mails.
Coming Thursday: Do veteran minor leaguers still answer fan mail?