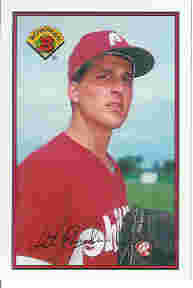 Combs signature
swirls like a
tight curve ball!
When do you know you've made it? When do you feel like you belong?
I asked Philadelphia pitcher Pat Combs what his four-hitter versus the Cardinals during his 1989 rookie season meant. (Thanks http://www.retrosheet.org/ for the memories!) Combs wrote:
"The Cards game was great! What I most remember is that it proved to me how good my 'stuff' was. It showed me that good pitchers get hitters out. The key is to make good pitches.

My wife was in the stands that day."
Combs should get extra credit for his final-month victories in 1989 and '90. I pointed out that pitchers are facing September call-ups, guys without substantial scouting reports. By contrast, word spreads fast about how pitchers are pitching. Combs added:
"When I arrived in '89, I had the same type of finish. I seemed to get stronger as the year progressed. The only attribution I could come up with is that my fitness level was extremely high. I would stay in great shape throughout the season, and simply outworked most of my peers."
Two reasons that Combs remains memorable to Phillies fans are announcers Harry Kalas and Richie Ashburn. What does the former pitcher cherish from these beloved voices?
"Harry K and Richie (Whitey) were great men. They so much enjoyed the game and the players. We could sit and talk for hours with them. Both were very kind and gentle men."
After reading about Combs' Christianity, I decided to end my letter with my favorite Biblical passage. Combs replied:
"Tom, yes, James 2:14-17 are great verses. We must always practice what we preach, and walk in the ways of our Lord Jesus. He showed us the Way!

Pat"
Coming Monday: writing to baseball family members.