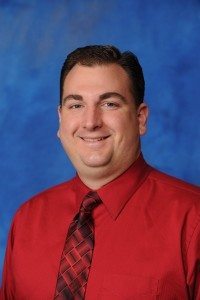 WGN, are you listening? Randy is
Cubbie blue, through and through!
Randy Wehofer loves baseball.
Listen to him call just an inning of an Iowa Cubs broadcast and you'll agree. You'll forget he's media relations director. Instead, you'll think of him as one of the smartest, funniest fellow fans in the ballpark.
His signature home run call? "Get outta my yard!"
I'm grateful that Randy took time to give us an inside look at fan mail and autographs for a AAA team. Here's our exchange:
Q: Do you see players reading fan mail? Does it make a difference to players?
A: I can't say that I see the guys reading mail very often, but I try not to be hanging around in the clubhouse too often. I'm in and out several times a day, but I try to get what I need done in there and get out. As far as making a difference, I'm sure that all depends on the individual player and the sincerity of the note. Within any team, there is a wide variety of personalities, just like any office or a big extended family. Undoubtedly you'll have some that love the attention and some that try to avoid it – just like your friend or cousin that tries to keep their birthday a secret every year and hopes everyone forgets.
Q: Estimates on how much mail I-Cubs receive weekly?
A: I don't handle all the mail, but I see 5-10 envelopes a day for someone in the clubhouse.
Q: Without naming names, have you seen players ever practicing their autographs?
A: I'm not saying it doesn't happen, but I've never seen it. I have heard guys giving teammates a hard time for how their autographs look from time to time.
Q: I understand the MLB tutors the newest minor leaguers to avoid signing
blank index cards, due to a possibility of identity theft. True?
A: I've not heard that, but in this day and age that sounds like it would be good advice.
Q: Well, what would you suggest that a collector send (with their SASE, of course) to be signed, if they've yet to find baseball cards of that I-Cub?
A: There are photos of all of these guys all over the internet. I'd say if you don't have a card, find a photo, crop it, print it out, and make your own card.
Q: The Iowa Cubs are famous for their autographed ball giveaway. Does the tradition continue in 2011?
A. It will be on Monday, August 22 this year. It is a huge undertaking to get all of those balls signed, stored, bagged, and distributed. It is one of the most labor intensive projects that we do for one promotion all year.
To learn more about Iowa Cubs promotions and tickets, go to http://www.iowacubs.com/.
Coming Wednesday: Who's the next nine Tom has written to?