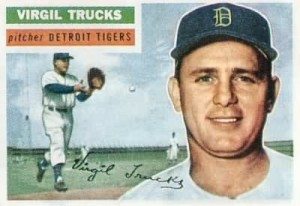 The same signature remains! Is Virgil covering
first base in spring training?
And they took offense at him. But Jesus said to them, "Only in his hometown and in his own house is a prophet without honor."
— Mathew 13:57 (NIV)
I have a bit of good news about Virgil Trucks, an update of the June 15 post, "Alabama Hometown Needs Virgil Trucks."
The "Welcome To Calera" sign is supposed to be redone this year. Virgil's name will be added.
However, a Calera Chamber of Commerce representative seemed a bit perplexed when I asked why NASCAR driver Hut Stricklin (who has since moved) was recognized, but not Virgil Trucks.
Answer: only one man is FROM Calera.
I think being a native son is overrated. Virgil Trucks, born in nearby Birmingham in 1917, CHOSE Calera. He's still living in Calera. Two reasons I'd move his name to the top of any sign.
I found little consolation upon hearing the Chamber rep say that the Calera Historical Society would be meeting in July, and that would be a good time to mention Mr. Trucks.
Virgil Trucks is LIVING history. Celebrate him NOW.
For years, I lived in Marshalltown, Iowa. Cubs fans who read my published work would call or send e-mail. Since I lived in the birthplace of baseball Hall of Famer Cap Anson, fans asked: what landmarks were there to visit? I could have told them I once lived on Anson Street, played in Anson Park and attended Anson School.
Trouble is, all were named after town founder Henry Anson, Cap's father.
Yes, clouds of racism overshadow Anson's legacy. Nonetheless, the people wanted to come. I imagined the cash-strapped public school system selling tons of clothes for a renamed "Cap Anson School." I asked local leaders to consider all the history, to address ALL of Cap's behavior — the good, bad and the historically-influenced. (Was he more hateful than others, or did newspapers simply listen more to Anson because he was famous?)
I begged Marshalltown to do something. Do anything!
No way. Too controversial. Status quo, please.
Virgil Trucks would be a joy to promote, compared to Anson, the 19th century version of Billy Martin. Let's hope Calera agrees while the Trucks family can still enjoy the well-deserved accolades.
Coming Friday: meet young collector and Negro Leagues booster Cam Perron