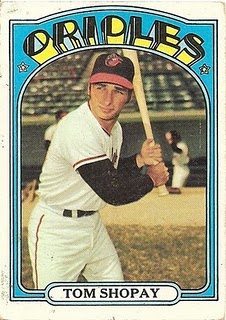 Cal Ripken Jr. collected
this card A LOT! I found
this specimen and some
great reading at
the Orioles Card website!
Judge a great leader by words and deeds. Tom Shopay saw the best of both from Hall of Fame manager Earl Weaver.

"One thing Weaver said that I remember was…

You have two choices when you step on the field. You can win or lose. Why step on the field if you are going to lose?"
I saw that Shopay had worked twice as a reserve catcher in Baltimore. Sometimes, the smallest statistic can uncover the biggest tale.

"It was his [Weaver's] idea. I was breaking in a catcher's mitt during batting practice for weeks. Then, Andy Etchebarren was traded to the Angels and Earl always had three catchers. So he came up to me and asked if I ever caught before. At that point, I knew where he was going.

I said, 'Hell, Yes!'

The only time I ever put on catcher's equipment was when two catchers got hurt in college and they asked for a volunteer.

I ended up by catching two full big league games and extended my career two years."
Shopay grew up in Bristol, Connecticut. See how his hometown honored him. Measure Shopay's grin to see how much the honor must mean.