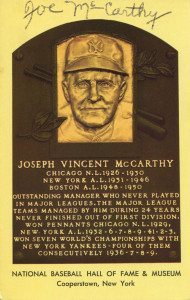 Everyone seemed to get
this extra when writing
to the great Yankee skipper!
During the 1980s, I profiled baseball address pioneer Jack Smalling for Baseball Cards magazine.
In the article, he mentioned that an average of one of out seven autograph signers would include an extra photo in their by-mail response. Often, these were team-issued, postcard-sized photos.
Bob Feller once told me that the Hall of Fame would send bundles of the gold plaque postcards for member use.
Yes, the percentages may be more steep today. You'll never know if you don't try. Keep this in mind when writing to former players.
How? Consider adding a one-sentence request: "If you have a photo of yourself that you would share for my collection, I'd be doubly grateful."
Asking is free!
Sunday, April 24: A review of the book Joe DiMaggio: The Long Vigil.