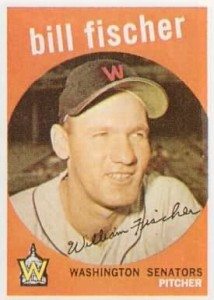 Fischer Didn't Sign My Note.
However, even at 80,
his handwriting matches!
In 1962, Kansas City Athletics pitcher Bill Fischer bested a Hall of Famer's record.
Christy Mathewson posted a string of 68 consecutive innings without issuing a base on balls. Fischer smashed the mark, reeling off 84-1/3 innings devoid of walks.
I wanted to know how the umpires behaved as the streak grew. Were they more careful, or even tougher, in their calls?
"Umpires — they were the same."
The famed reference book The Ballplayers begins by describing Fischer as "A former Marine drill instructor…"
I asked if this leadership skill helped him as a pitching coach for the Reds and later the Red Sox.
"One we were in the Marines. Lot different life coaching Baseball."
Just like a Marine, the no-nonsense pitcher offered no personal reflection on his record.
"High point — we got the final out."
Tomorrow: Sharing a laugh with former White Sox pitcher Ray Herbert.