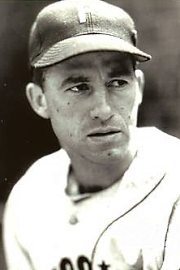 Ford "Moon" Mullen wasn't a "replacement" player. None of them were.
These are the men who kept baseball alive during World War II. Aloof pundits sniff that the quality of play suffered when the "real" players were in the military.
I disagree. These men kept playing and competing, keeping fans in the stands. They gave America reason to hope during dark days. They had earned their chances, toiling in talent-laden AAA showcases like the Pacific Coast League.
Mullen's letter proves the intensity of the Philadelphia players of 1944. Were they fretting about the team getting a temporary name change from Phillies to "Blue Jays"?
"I don't think any of the players gave much thought about a name change for the team. We were all happy to be a member of a Major League ball club.

We as a team didn't do all that well but had some games that we can remember as being good and some not so good. All in all, we enjoyed being a member of the Phillies.

As far as myself, I wish I could have played with them longer than one year, but after my stint in the Army, I didn't make it back to the team. I finished my career playing for Portland (Coast League) for a few more years and finally ending my baseball career by teaching biology and zoology at my hometown high school in Olympia, Wash. for 23 years.

I am 94 years old now and have been retired since 1976.

Sincerely,
Ford 'Moon' Mullen"
Don't miss this great tribute to Mullen (with vintage photos) from Larry Stone, one of the Northwest's greatest baseball writers. Collectors will have a special laugh hearing Mullen's wife of 70 years explain why hobbyists want her husband's autograph!
Tomorrow: A few words from Bill Fischer, the record-setting MARINE pitcher!