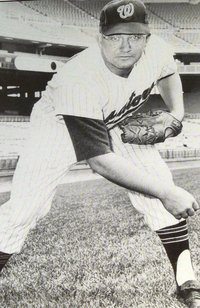 Found on the Oshkosh
H.S. website. Originally a
McCarthy postcard image?
Tigers pitcher Howie Koplitz flashed candor and gratitude in his reply. I asked about his career-changing arm injury. Fresh off being named "Minor League Player of the Year" by The Sporting News in 1961, Koplitz had a bright future.
What moved me about the account was how Koplitz focuses on what he enjoyed during his career, instead of the potential that escaped him. He wrote…
"My arm problem is still a sore spot with me. It happened in Lakeland, Florida in spring training with the Tigers. The weather was very cold and windy, unlike a comfortable spring training day.

I was the pitcher in the pen 'in the hole.' In other words, they would only use me as a last resort. Sure enough in the ninth inning, I got the call to get ready. I went to the bullpen mound and the wind blew me off. I should have figured right there that this was not going to be a good experience.

I guess I figured that I could 'wing it' for one inning. But that didn't work out too well. I went to throw a pitch and my shoulder popped. I could hear it and I could feel it.

I knew as soon as I did it that this was something serious and probably not repairable. In those days, the pitching should was still a mystery. I had never heard the term [Koplitz left a blank, although I'm sure he wanted to add 'rotator cuff'] but I sure experienced it.

My career came to a grinding halt and it only took one pitch to do it.

Now-a-days, the medical people are much more capable, much more knowledgable in dealing with those serious injuries and do some remarkable rebuilding and repairing.

No matter how things turned out, I wouldn't trade my 10 years in pro baseball for anything. It was a wonderful experience. I met some great people and made a ton of friends. I got to places I ordinarily wouldn't [have] gotten to. Played in just about every state, including Puerto Rico, Dominican, Venezuela and Panama. What more could you ask for?

What a ride!

Thanks,
Howie"