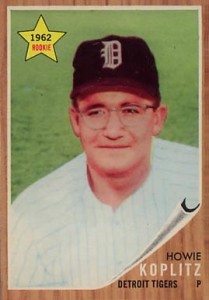 A humble, grateful face!
Many former players seem selective with adjectives.
Sure, they know stats. They know "team leading" and "career high." However, lots of them tiptoe around feelings. Not Howie Koplitz. His letter was peppered with "delight," "positive" and other words that express his pleasure and gratitude of a seesaw journey marking 10 years in pro ball.
Why is he so happy, not bitter, at never reaching stardom? Reading between the lines of the Koplitz letter, I went to the "Wall of Fame" page from his alma mater, Oshkosh (Wisconsin) West High School.
Imagine a school and town that size providing the Tigers two pitchers in a decade — starting with Billy Hoeft, class of 1950. The number might have been three.
Recent honoree Harold "Sog" Gauger is pictured from the class of 1954. Koplitz and Gauger combined to throw a no-hitter in the 1954 state tournament. That was one of five no-no's "Sog" spun that year. Gauger signed with the Tigers in August. The last line is his heart-breaking bio notes that he died in an October car accident.
What might have been? Despite all the adversity Koplitz would face, I'm sure he remembered he was getting chances Gauger would never know.
Koplitz wrote:
"Dear Tom,


Thank you for the nice letter. I'm very honored to be remembered in such a positive manner. Although my Major League career was shortened, I feel that I built a lot of good memories in a short period of time.


That 1961 season in Birmingham was a pitcher's delight. It was a case of me getting in a groove early in the season and staying there all season, which is very odd for any pitcher in any league. No matter what I did or tried to do, it turned out positive. What a positive feeling! At the completion of the Birmingham season, I was called up to the Detroit Tigers to my delight.


They could have called me up earlier, but I think they wanted to see me finish what I had started in Birmingham. That was alright with me. I think Eddie Glennon was the first person to tell me. Eddie was the general manager there. I celebrated with a couple of beers while I was packing!"
[Koplitz chose modesty here. Let me say for him: The Sporting News named him Minor League Player of the Year for his achievement. Baseball gave two MVP awards, one for each league. Only ONE player got TSN's award!]
"About the seven straight wins to start my Major League career, I think the first one is always the most memorable. Oddly enough, the first one came in relief against the Los Angeles Angels. I remember that team very well. They were led by Albie Pearson and Steve Bilko."
Thanks to the wonder of http://www.retrosheet.org/, here's one more chance to enjoy that first-ever Koplitz win against the Angels.
Tomorrow: Koplitz recalls the pitch that changed everything.