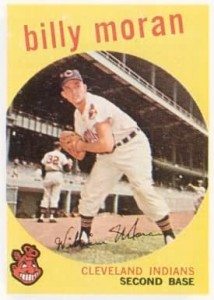 Can your signature stay the same
for 50 years? Moran has an
all-star autograph!
Infielder Billy Moran impressed me. When I asked about three moments in his career, he recapped the whole career. And why not? Telling the whole story lets someone fully comprehend how high the highs (or how low the lows) really were.
Moran replied:

"My life in baseball had many ups and downs.

Cleveland never really gave me a chance to play regularly. I almost quit pro baseball twice. Once in 1961 when Cleveland did sell my contract to the Toronto Maple Leafs (AAA). I began the '61 season with Toronto and made the All-Star team at shortstop. Toronto sold my contract to the expansion Angels in June, 1961.

My good break!

I played 160 games for the Los Angeles Angels in 1962 and had my greatest year. I was the first AL'er to hit a home run in Chavez Ravine. I was the first Angel to get a hit in an All-Star game! I had 186 hits, that was the most hits in a season by an Angel for 15 years! Someone tied me with 186 hits and that was the most for 10 years longer!

In 1963, I led the American League for second basemen in putouts and assists.

I was traded back to Cleveland in 1964. I did not play very much. I would have quit at the end of 1964, but I needed 13 days to get my vesting in the pension plan.

I was with Cleveland in 1965 and only had 25 AB's for the year.

Billy Moran
ALAS – 1962″
Yes, it was only an abbreviation. He was an all-star. But his four letters make a real word with a real meaning.
Alas, Billy Moran, 1962 came and went so quickly.
Tomorrow: Run, you 1958 Yankees! Ted Bowsfield is coming!!!