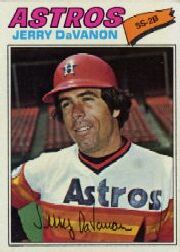 That was his sig,
and his smile!
"Not in the face! Not in the face!"
— Arthur
Guilty confession. I've loved the animated series THE TICK. If I was a costumed crime fighter, I'd wind up being another Arthur, a Tick sidekick.
Where did the super-hero find inspiration? In this case, his battle cry of catch-phrase seemed may have originated with utilityman Jerry DaVanon.
I remember seeing the Houston Astros play an exhibition game in Des Moines, Iowa. DaVanon emerged from the clubhouse to the usual throng of gymnastic autograph seekers hanging from the railings, looking down on him.
DaVanon used the Arthur-like cry when scorecards buzzed too close to his head. Giddy kids (and greedy adults) often think that memorabilia shoved as close as possible to a signer's nose will get autographed next.
So, DaVanon shouted those four words of warning. Fans recoiled. The Astro restored his personal space and exhaled. Signing continued.
Today's signers may quit without a word. Be aware that not every player may be giving out second chances. Baseball may be running out of Jerry DaVanons