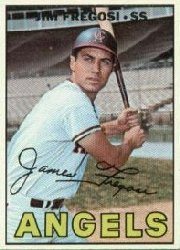 Same Flamboyant "F"
In Today's Sigs
Six-time All-Star Jim Fregosi was the enduring face of the California Angels franchise in the 1960s.
Forget the anemic infielder stereotype. Fregosi previewed the ideal of what a slugging shortstop could look like.
He surprised me with the explanation of his career high 22 homers in 1970, writing:
"They used a different ball that year!"
Fregosi tasted history twice. He hit for the cycle on July 28, 1964 and May 20, 1968. His memories?
"First cycle started by Clete Boyer dropping a foul ball at third base.


Both cycles ended with a single."
(Thanks to http://www.retrosheet.org/ for filling in inning-by-inning details. Fregosi "cycled" his team to wins on both days!)
Fregosi knew team owner Gene Autry as a player and manager. What made Autry different from other owners?
"Gene Autry loved the game, big fan, and kept score of every game."
I'm touched when a former player will add an extra sentence to close a letter, taking a moment to look back on their life in baseball. Fregosi closed with elegance:
"Lucky to be involved in baseball since 1960. Great game and all my friends are involved with the game. Very happy with my life and baseball and working for an outstanding organization like Atl.

Jim Fregosi
#11″