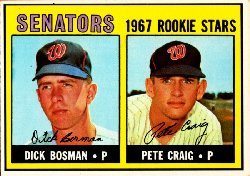 Same Signature,
Same intensity!
Dick Bosman spent most of his career toiling for struggling teams.
Nevertheless, he gave the Senators many thrills, including a pair of one-hitters in 1969-70. History didn't find the hurler until 1974. (Thanks, www.retrosheet.org.) His July 19 gem against the mighty Oakland Athletics wasn't forgotten. The Cleveland hurler was acquired by the A's that next season.
When did Bosman's mind switch from "good game" to "possibly making history?" How did the Indians honor his accomplishment? He replied:
"Fifth inning.
$1,500 raise and engraved pocket watch."
Beginning in Washington, Bosman had the opportunity to pitch for manager Ted Williams. What did he learn from Williams that influenced him as a player, and later, as a coach?
"The mental game of pitching."
Williams witnessed Bosman's transformation, including a league-leading 2.19 ERA in 1969. How did he feel about winning an ERA crown?
"It was my first good year. It gave me a lot of confidence."
Tomorrow: Dick Bosman sums up nearly five decades in pro ball.