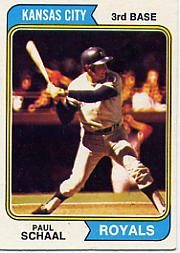 George Brett's
Predecessor
Paul Schaal was more than a slick-fielding third baseman.
Schaal didn't shy away from his defensive reputation. Just survey the years he indulged Topps photographers with the same "crouch with glove outstretched" famous pose.
Schaal did his share of hitting in more than a decade with the Angels and Royals. His favorite target was "Sudden" Sam McDowell, who surrendered three homers.
I asked if each dinger was a fastball when the Indian was behind on the count. Schaal replied:
"Always looked fastball off McDowell. Easier to 'adjust' if it was a curve. Two were off his fastball. As best as I can remember, one was off a curve. He had great stuff."
Another pitcher Schaal hasn't forgotten is Boston's Jose Santiago.
A 1968 beaning brought a fractured skull, putting Schaal's career in doubt. Hospitalization and a trip back to the minors were his first hurdles in a comeback. Inner ear problems would remain.
"The occasional dizzy spells were the toughest. Was unable to focus well on field pop-ups."
Cardboard Icons is a fascinating blog. This post about Schaal and his 1970 Topps card will have you double-checking all those old card backs.
Tomorrow: Schaal shares his gratitude.