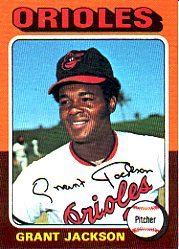 Same Artistic Autograph!
Strike three!
Sorry!
I can't imagine hearing the umpire's call followed by an apology from the mound.
Or, with Grant Jackson, I could.
I got a November letter with my questions returned — unanswered.
In unmistakable Jackson handwriting was:
DON'T DO THIS INTERVIEWS
What followed was
TO TOM GRANT JACKSON
not just on my letter, but on a color postcard-sized picture that he provided.
Yes, that's my bad news. But there's good news. For several weeks in 2010, Jackson letters were returned unopened, RTS. He is signing again.
Also, he seems interested in fans. Although he's not going to answer questions for free, it seems, he might write a book someday. Let him get paid once for sharing his story, and we'll all be richer for it.