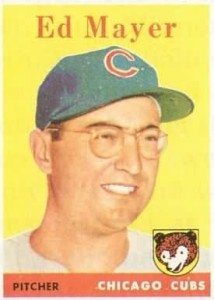 Mayer: "I'm happy with the card.
The picture was taken at Wrigley
Field. I didn't think about the card then."
 Pitcher Ed Mayer is a true all-star in my book. After his arm ended his decade in professional ball, his heart led him to teaching. Although a quarter-century in the schools didn't get him on any more trading cards, he remains in the hearts of students he inspired.
Mayer wrote me:
"Thank you for the nice letter. You are a true fan. I played pro baseball for 10 years. I had to work my way up each year."
Writing by hand, he listed his climb up the minor league ladder, starting in 1952, including each team, class of league and won-loss record. At the end of the 1956 season, the Cardinals prospect pitched winter ball in Cuba. The non-stop action (winding up with more winter ball in 1957) wore his arm out, Meyer said.
Nevertheless, the Cubs promoted Meyer from Fort Worth in 1957. He remained on the Chicago roster in 1958.
I wrote him one question:
"The List of Jewish players from the 1950s isn't huge. How many people (fans, teammates, media) knew of your faith? Any bad reactions?
He replied:
"I only had two experiences in 10 years. But we didn't care about religion in those days.


Incident #1 was in Indianapolis. A fan was yelling anti-Semitic statements at me while I was pitching for Omaha in AAA. I didn't pay any attention.
2. I was not allowed to go to the Olympic Club in Phoenix with the rest of the team in 1958 spring training."
The team. As in THE CHICAGO CUBS. This wasn't a rag-tag minor leaguer. Mayer had ended the year on the Chicago roster. He belonged. Who cares if it was a private club? He was a teammate, someone to stand up for.
I've read the articles. I watched Undercover Boss. The Ricketts family have big ideas about owning the Chicago Cubs. I'd be proud to see the new owners fix an old chapter of team history before starting a new season.
Look up 79-year-old Ed Mayer. Bring him to Arizona for one more spring training, a guest of the team. He deserved better. Once a Cub, always a Cub?