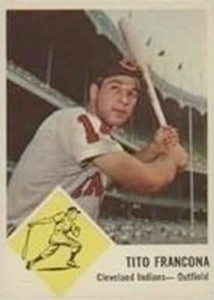 Tito Francona is kind and/or shrewd.
There should be an asterisk on Jim Bunning's Hall of Fame plaque. Francona treated Bunning like a batting practice hurler, collecting 32 hits (including five home runs) against him. Some retirees would enjoy gloating about their mastery of a Cooperstown inductee. Perhaps, Francona was protecting trade secrets?
In a short, sweet reply, Francona chose diplomacy. All he revealed about Bunning was:
"I saw the ball better."
Francona discovered power hitting in 1959. His career-best 20 homers matched his long-ball output of the past three seasons combined. Francona's four-word explanation was…
"practice and more practice."
I guess I threw Francona a curve, asking about his son — Boston skipper Terry Francona. I was sure that Dad saw Terry's athletic talent at an early age. However, when did he suspect his offspring could someday be a World Series-winning manager?
"I don't know."
One thing Francona was sure of?
"I enjoyed every minute."