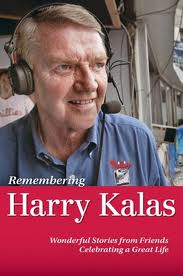 A Worthwhile Book!
There's nothing wrong with vanilla ice cream. FoxSports is serving it for the NLCS broadcast. I tried ESPN radio, too.
I yearn for something more distinctive: a broadcaster who thrives on baseball. I've been thinking about Harry Kalas and Richie Ashburn. I never heard the pair together. But I heard Harry The K recall his long-time broadcast cohort. Before accepting the Hall of Fame's Ford Frick Award in 2002, Kalas talked about his Phillies memories.
I sent a note of congratulations that year, asking him to keep talking about Ashburn. Kalas replied:
"Thanks for your kind letter. The Cooperstown weekend is something I will never forget.
Richie was as good a friend as a man could have. Not a game goes by that something will happen on the field that reminds me of 'His Whitness' and it's always with a smile on my face and warmth in my heart.
My best wishes,
Harry Kalas"
Not to slight Giants fans…but Phillies followers might want to follow this Harry Kalas Facebook page.