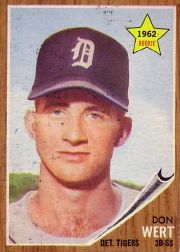 Don Wert took six months to reply. As I faced my own birthday this week, I can't help but worry about delays. I hope a retiree has been enjoying the summer or wintering somewhere warmer. However, I know that time can catch up to all players.
Who didn't overshadow Wert in the 1960s? The capable third baseman played on Al Kaline's team. Worse still, Brooks Robinson and Clete Boyer grabbed most headlines as the league's top glove men.
What did becoming a 1968 All-Star mean to Wert?
"Excellence recognized."
How could he keep defensive pace with Robinson and Boyer?
"I was quick to react and got a good jump on the balls."
Lastly, I had to ask about the feeling of whacking the pennant-clinching hit in 1968. RELIEF seemed to be Wert's primary emotion. He wrote:

"Glad that Kaline scored the run."
SABR and researcher John Milner captured Wert's career and personality with this ultimate bio.