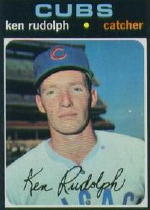 These days, you can find former catcher Ken Rudolph coaching at an Arizona High School.
Once, he outshone a future Hall of Famer in the eyes of the Chicago Cubs. Rudolph was a second-round pick in the 1965 inaugural draft. The Cubbies preferred him over an Oklahoman named Johnny Bench. Rudolph wrote:
"Yes, I was drafted BEFORE Johnny Bench, and so were fifty other players."
In Chicago, Rudolph was trapped behind ironman Randy Hundley, the catcher who didn't believe in days off. Waiting his turn, Rudolph was able to witness Hundley's new receiving style.
"Baseball people are slow to change. Once they noticed how effective catcher was, it then caught on."
Rudolph operated on Doc Ellis on June 29, 1969, collecting his first career homer. Of course, http://www.retrosheet.org/ captured the moment. Rudolph remembered:
"My first home run put the team either into a tie or put the Cubs ahead in the game. We did win and that ball is one of my prized possessions.


"Because I didn't hit many home runs, my first one was special."
Someday, I hope someone coaxes Rudolph into telling how he and the Cubs convinced a fan to give up a home run ball!