Former pitcher Don Johnson enjoyed a memorable roadtrip during the 2010 season.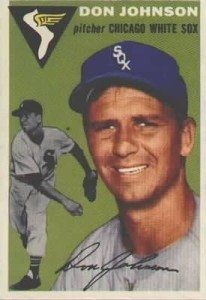 Identical Signature 56 Years Later!
He participated in the Yankee Old-Timers' Day honoring the 1950 champions. Johnson visited a "new" Yankee Stadium, but still felt at home.
I wrote him, asking if it was fun. Only fun? Johnson replied, sharing how much the time meant to him.
"It was a ball putting on that uniform again. It brought back a lot of good memories.

"That was my last hurrah."
More than 60 years later, Johnson still kicks himself for failing to get Babe Ruth's autograph. Read what he missed in this New York Times article.
Tomorrow: What does it feel like to be on a baseball card? A former Chicago White Sox player shares some surprising answers.